Release Date
September 13, 2015
The Renegade is a 2015 film directed by TheFallen123. Rick120 is the producer and screenwriter. It is a reboot Hyperblue. It is the 5th film in the Time Heroes franchise. The film was released on Sunday, September 13, 2015. 
Plot
When an experiment goes wrong, an electric hero is born.
Production
During production of Blind Justice, director TheFallen123 had been highly considering rebooting one of his earlier works Hyperblue, since the Neverwakening version had been considered non-canon. During which time, fellow director Rick120 expressed slight interest in screenwriting a possible reboot, to which Fallen allowed him to try.
In March, 2015; Rick released a concept design of the character design and signed on as the film's Producer, during which Fallen confirmed the film's title as The Renegade and it would be his next film after Blind Justice. The script was written and reworked, and the film began to be filmed afterwards, due for release in September 2015. The film was released on Sunday, September 13, 2015.
Cast
Main Cast

| Actor | Role |
| --- | --- |
| ArcticFox001/KingInFront | Hyperblue |
| Wholesaleryan56 | Phantom |
| cook57 | Diana |
| MoonLIghtShadow459 | Cassie |
| Greengoblin21 | Seargent Miller |
| Juzzy4 | Frank |
| tec307 | Emilio |
Reception
The film received mainly mixed to positive reception
Reviews
Reviewers
Whew. I that was a thrill roller coaster my friend! Beautiful cinematography, Beautiful stopmotion and awesome visuals! this movie was thrill to watch and I loved how it was hard to tell who the real protagonist was. If that was intentional or not, this was awesome. to me it had a little nightwalker(that which is my favorite movie), and the man of steel i it! 2 extravagant movies. I loved this movie! 9.5 of 10 :) good job
Supergoko98
####, son! that was the best film ever I have ever seen. Creative visuals, thrilling music, the best cinematography and visual effects. This is the best film for the Time Heroes Cinematic Universe, ever. Final adjusted rating: 10/10
JohnCena2305
Beautiful visual quality, good music choice and nice stopmotion movements. Thou I felt as if some scenes of the movie weren't needed, and few characters didn't have enough character development, but I'm sure you'll take care of it. All n all, a good movie to watch if you got too much time on your hands, and it's one of a kind. I'm sure you will impress me in the future for upcoming films like The Future Soldier. 7.8/10
wigwacker55 (YouTube)
I gotta say this one kinda disappointed me. I've really liked the Time Hero movies so far, but this one didn't really live up to the hype the other ones did. Hyperblue is actually one of my favorite characters Fallen has created, I was a big fan of the original film and ThecapcomFreak's remake, but this one was not the best Hyperblue movie in my opinion. 5/10
PenguinScribblez
This was hands-down one of the best Robloxiwood films ever created. This film succeeded where the previous Hyperblue reboot failed, in showing the duality of Hyperblue - good vs. evil, his conflict with himself and being unable to control his powers. This is a truly dark movie. Amazing action scenes and stellar dialogue makes this film TheFallen123's greatest film to date. 10/10
DonValuta

THIS REVIEW CONTAINS SPOILERS
Okay first off, I haven't seen the other Time Heroes films. So most off the stuff in this movie I didn't really get, but that won't really be the main part with this review. The first problem I had with this movie is the sudden change of tone. So the pre HyperBlue part felt more like a light MCU movie (kinda like Iron Man I would say). But then it goes to a much darker tone just like a DC movie and that really didn't work. The pre HyperBlue stuff should of been a bit more like the rest of the film, not some part hard Iron Man film with Gangsta Rap thrown in there. Lets start with Cassie's death...totally pointless! Okay I see you tried to make Cassie the love interest of the movie and her death was gonna be an important part of this film, but we didn't have a reason to care about her. She was some reporter lady that Jeremy slept with at the beginning, so I assumed she had no relevants to the story at all. She just felt like a throwaway character. Also her death was a bit random I must say. After that scene takes place, we then cut to Diana telling frank that Jeremy is being hunted down. Is it just me or was there another scene that should have took place before that? I don't know, it just came out of nowhere. Also I should mention, that scene had one of the worst use of dialog I have ever seen. Frank: Why would I go to watch my best friend be hunted down like a dog? Diana: Because they're going to kill him. ...Do I have to explain why?Aside from all that, the character designs looked great (apart from the mech suits that look like something from free models), the visuals looked good (even though some scenes where to dark I couldn't see a thing) and the story was okay I guess. I give this movie 7.5/10 yeah...this film could do better.

Madformerspro
AVERAGE RATING: 6.8/10
Trivia
Media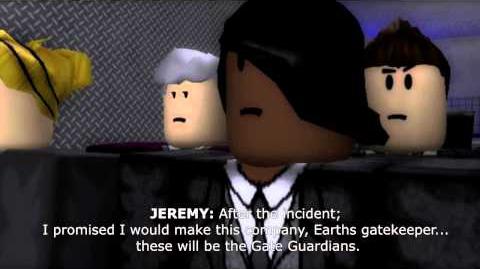 Ad blocker interference detected!
Wikia is a free-to-use site that makes money from advertising. We have a modified experience for viewers using ad blockers

Wikia is not accessible if you've made further modifications. Remove the custom ad blocker rule(s) and the page will load as expected.