The Annual BLOX Awards
The BLOX Award.




Date Held
2013, 2014 (annual)
Host
Superpenguin55, Zilex1000, Arclordrpg
No. of Award Winners
19 as of 2014 ceremony (16 in 2013) (minimum, excluding any ties)
The BLOX Awards were an annual awards event held by Superpenguin55, Zilex1000, and Arclordrpg. Two award ceremonies were held, in 2013 and 2014.
History
The idea of the BLOX Awards was conceived at the start of 2013, and the first ceremony was held on the 6th of July at the National Theatre. All films produced prior to June 2013 qualified to be nominated. The second ceremony was held at the ROBLOXiwood Arena on the 13th of September, 2014. Only films produced between June 2013 and the end of the 2014 nomination period were eligible. A third ceremony to be held in 2015 was in the planning stage, however due to unfolding events in the ROBLOXiwood community, these plans were scrapped. No further ceremonies will be planned.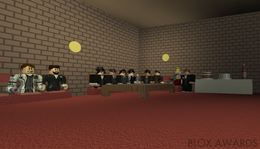 List of BLOX Award Ceremonies
Winners by Category
Voting Process
The awards start off with a nominations period. During this period anyone can put forth their nominations for each category.  At the end of the period, a selected committee will decide out of the nominations who will win.  The winners will then be announced.
Notable Guests in Attendance per Year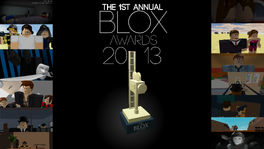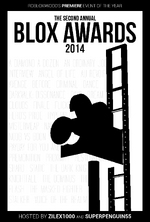 (
* = award winner in 2013
) (
** = award winner in 2014
)
Guests who attended 2013 only:
Guests who attended 2014 only:
Guests who attended both years (2013, 2014):
Links
Ad blocker interference detected!
Wikia is a free-to-use site that makes money from advertising. We have a modified experience for viewers using ad blockers

Wikia is not accessible if you've made further modifications. Remove the custom ad blocker rule(s) and the page will load as expected.