Telaman is an upcoming superhero film written and directed by s9i. The film will mark his directorial debut.
Telaman
The official poster.

Information

Release Date
N/A
Director
s9i
Film Company
S9i Productions
Running Time
N/A
Main Actors
N/A
Genre
Superhero, Action
Movie Rating Rank



Plot
After being fired from his job, Telamon gains superpowers after eating a radioactive chicken wing. Meanwhile, 1x1x1x1 gains immense power and breaks free from Banland in hopes of defeating Telamon once and for all.
Production
The concept was designed in 2014, and several attempts to begin producing the film were made without success. Production began in early April, 2016. The film was on hiatus for a while before production slowly began once again, and went on hiatus again shortly thereafter, then picked back up again, then thrust back into a hiatus, and then picked back up again in September 2017.
Reception
TBA
Cast
| Actor | Role |
| --- | --- |
| s9i | Telamon |
| s9i | John |
| s9i | 1x1x1x1 |
| s9i | Builderman |
| s9i | Zuka |
| s9i | Noli |
Trivia
Gagerblue came up with the idea for the film and began working on it in 2014 with s9i as co-director, but it was abandoned.
Media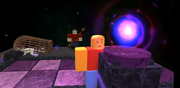 Ad blocker interference detected!
Wikia is a free-to-use site that makes money from advertising. We have a modified experience for viewers using ad blockers

Wikia is not accessible if you've made further modifications. Remove the custom ad blocker rule(s) and the page will load as expected.