Tales From The House
 is the debut film by
Zilex1000
, and was distributed by
Zilex1000 Productions
. It is the third entry in
The House
series and was released over the course of July to September 2012 in three parts.
Plot
There is a shimmering evil that lurks within the cold walls of the House, but the bankrupted Grove family has no time to pay attention to whatever negative feelings they have about their new home. It does not take kindly to being ignored, as they soon discover in a series of events that forces 16 year old Jessica to face the demon head-on, alone.
Production
After Zilex got the rights to a prequel to The House series, CosimoValuta approached him with a subsidiary deal. This deal included access to resources that Zilex1000 did not have and co-production credit to The Mafia Films. Once a subsidiary, production began with the writing of the script. After finalizing details with CosimoValuta, Zilex1000 gathered past collaborators Rachelmay1, Superpenguin55 and Brisingric to help act and design characters. CosimoValuta acted as the film's producer.
The film was released over the course of three months in the summer of 2012, due to extensive re-writes of the scripts and production problems. It opened to a generally positive reception. Part 3 of the film was uploaded on September 15th.
Cast
Reception
The film received a mostly positive reception.
| Reviews | Reviewers |
| --- | --- |
| "You did a great job. Yours seems to get praised more than mine, which i'm quite jealous of, but keep up the great work! Oh my god. I love it. Every one little tiny bit of it. I love the background you made for The House movies. I love the fact that the story leads RIGHT INTO THE HOUSE 1. The cinematography is brilliant. I LOVE IT." | Harry131291 |
| "So overall the movie, has a good story, great characters with great performances, the editing is fantastic, the movie is intense and actually scary in places, Zilex pretty much brought this movie to us, saying :"Here's how you do it..." because... damn that's some pretty chilling stuff right there." (Gave the film a 9.5 out of 10) | Rick120 |
Trivia
N/A
Media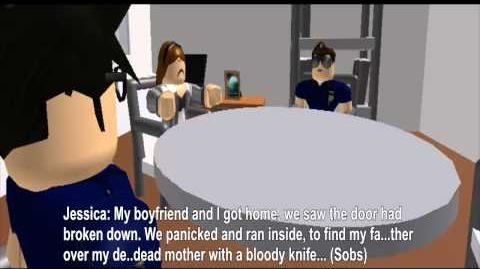 Ad blocker interference detected!
Wikia is a free-to-use site that makes money from advertising. We have a modified experience for viewers using ad blockers

Wikia is not accessible if you've made further modifications. Remove the custom ad blocker rule(s) and the page will load as expected.