Meetings at Arrestare
The "for you consideration" poster for the short.

Information

Release Date
January 15, 2012
Creator
Thunder162
YouTube Channel
ArrestareFilms
Main Actors
Thunder162, Moltak118, Tompengu
Genre
Comedy
Movie Rating Rank
Meetings at Arrestare is a short film directed by Tompengu and written by Thunder162. 
Summary
Arrestare Films actors Thunder and Moltak look for Koprio's office, only to discover his office has been replaced with a "comedy hallway", which causes anyone who walks in one door to be teleported to a door across the hall.
Production
The idea spawned from Thunder162 during a meeting of future productions after the completion of Alien in 51. Thunder162 came up with the idea, and with the help of Tompengu, quickly wrote a script. Filming the short began in January 2012. The shoot took place over the course of an hour, and starred Thunder, Moltak118, Tompengu, and Koprio.
Reception
The film was released January 2012 to generally positive reviews. The film won the Best Short at the ROBLOX Film Awards and was nominated for two BLOX Awards, for Best Screenplay and Best Storyline, which it both lost to fellow Arrestare/Legacy production Alien in 51.
Cast
Moltak118 as Himself
Thunder162 as Himself
Koprio as Himself
Tompengu as Himself
Daisey889 (Production Staff)
ImTheCop (Production Staff)
Trivia
Daisy889 and ImTheCop were credited for contibuting to the bloopers in the film and for helping out on set.
Awards
The 2012 ROBLOX Film Awards
Best ROBLOX Short (Thunder162) (Win)
The 2013 BLOX Awards
Best Storyline (Thunder162) (Nomination)
Best Screenplay (Thunder162) (Nomination)
Video Link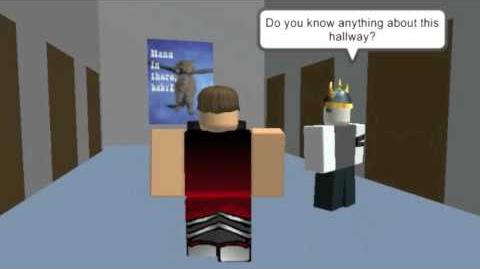 Ad blocker interference detected!
Wikia is a free-to-use site that makes money from advertising. We have a modified experience for viewers using ad blockers

Wikia is not accessible if you've made further modifications. Remove the custom ad blocker rule(s) and the page will load as expected.