Jack

Information

Release Date
March 31st 2016
Director
Brettisnotcamp
Film Company
Sloth Brothers Productions
Running Time
4:24
Main Actors
Rainfanrachel, StevieGLiverpool
Genre
Horror
Movie Rating Rank
Jack is a short film, directed by Brettisnotcamp. It is produced by Sloth Brothers Productions, based around a halloween themed killer. This would ultimately be the first and last production made by Sloth Brothers Productions and Brettisnotcamp, however StevieGLiverpool.
Plot
A young girl is left fighting for her life as a mysterious gentlemen in a jack o' lantern costume breaks into her house. 
Production
The idea started when StevieGLiverpool and Brettisnotcamp decided to go back to making collaborative movies together. When brainstorming ideas, the idea of a horror sprouted up, more specifically, a slasher. Soon enough, film sets were being made and the concept for the killer was made, being a man wearing a sort of jack o' lantern hood, hence the name Jack. Later on in the day, a short segment was filmed and edited.
When the edits were complete, Brett and Stevie decided to upload it to the wiki page and their new youtube channel. The movie was made 2014, but due to the inactivity between Stevie and Brett, the film was ultimately not released (the intended original release date was November 1st 2014). StevieGLiverpool eventually remembered the film and decided to finally upload it on March 31st 2016.
Cast
| Actor | Role |
| --- | --- |
| Jennet | Rainfanrachel |
| The Jack O' Lantern | StevieGLiverpool |
| Mother | StevieGLiverpool |
Trivia
The parental figure was orignally going to be Brettisnotcamp playing the father.
Media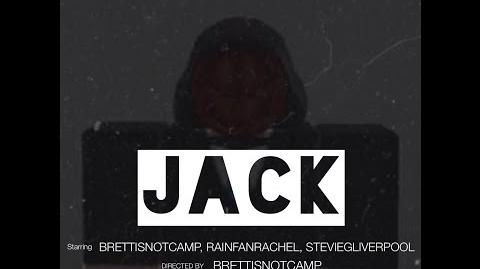 Ad blocker interference detected!
Wikia is a free-to-use site that makes money from advertising. We have a modified experience for viewers using ad blockers

Wikia is not accessible if you've made further modifications. Remove the custom ad blocker rule(s) and the page will load as expected.