Innovation
 is a 2015 short film written and directed by
Littlegreen1
, and produced by The
Neo-Avant Institution
.
Plot
A man named Lawrence Baker who was left alone must cure an infectious disease to keep humanity alive, under some very critical and hard times throughout his journey.
Production
Littlegreen1 began writing on February 12, 2015. Filming began February 15, 2015, and the trailer was released on February 17, 2015. Filming production ended on March 6, 2015. The film was released on March 7th, 2015.
Cast
Reception
| Reviews | Reviewers |
| --- | --- |
| I could only see 3 errors in this film but overall I give this film 8.7 out of 10. Good job Little, a big improvement over your other videos. | TEDOG1232 |
| Innovation is an interesting concept. However, I think the execution was a bit weird. First of all, the tie-in to the Discrepancy was a little weak, and I think there should have been more to this movie/short. We barely know who Lawrence is, and then Ramsey is introduced. Where is the rest of this? Aside from this, the editing is okay (the title card goes on way too long), the dialogue is decent and the music is well-chosen (except for the opening). Overall, this piece had potential, but didn't deliver in the way I wanted it to. 5.5/10 | Olliekins |
| Innovation is quite a slow paced film, to be honest there wasn't much that appealed to me. It was all "survival, survival, survival, guys with three daggers in their hands..." It was less than mediocre and I disliked this alot! We don't even who Lawrence IS and then we see this guy Ramsey and we're like "Umm...okay?" Apart from this, the editing was great. The title card however stretched out like stretching gum. The conversations are ok and the music fits with each scene apart from the beginning. Overall, this obviously had it's moments but you didn't execute it in the way all wanted it. 3.8/10 | TheFeatheredOwl |
| While I am not a fan of post-apocalyptic story lines, the elements in Innovation that stood out to me all centered around two things, the internal fight that Lawrence Baker has with Shadow and Lawrence's Dad, and Ramsey's motivations for finding the facility. The main issue is the short doesn't focus on these elements at all, and is capturing rather insignificant moments, like the sporadic action scenes with Ramsey and Lawrence's monologue. Overall, I'd give it a 2/10 | DonValuta |
| The story had no character development, we didn't know what was going on, and the film was visually unappealing. I liked the feel you were going for in the opening credits and the music choice was great, but overall this needed a lot of fixing. Story writing mostly. There was little to know exposition or narrative structure. What apocalypse was this? A zombie one? It wasn't shown clearly. You need to improve on these the next time. Sorry, but I didn't like. 2.5/10 | BenIsLegit |
| Little I'm sorry but this was a piece ####. It wasn't box or suicide bridge bad but bad.... There was no character development, pointless action scenes and thing were just confusing. Also WHY WERE THE LEGS NOT MOVING?!!?!? 2/10 | Supergoko98 |
AVERAGE RATING: 4/10
Trivia
The original story was supposed to have three different characters: Lawrence, Ramsey, and T-Mac.
Lawrence Baker's original name was just supposed to be "The Scientist"
There is a hidden easter egg in the poster.
The creatures in the trailer were originally supposed to be zombies, no footage of them remains in the short film.
Continuations
Main article: Innovation 2
In 2015, Innovation was adaptated into a theatrical film directed by DonValuta, titled The Innovation.
Media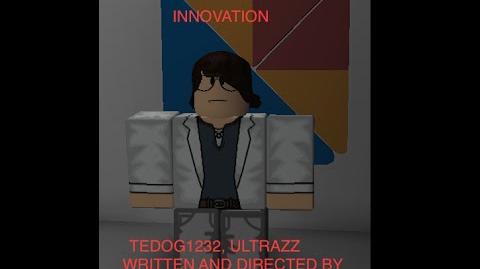 Ad blocker interference detected!
Wikia is a free-to-use site that makes money from advertising. We have a modified experience for viewers using ad blockers

Wikia is not accessible if you've made further modifications. Remove the custom ad blocker rule(s) and the page will load as expected.