Injustice
is an upcoming 2 Part Superhero film directed by
Rick120
. The films will be the 6th and 7th films in the Time Heroes franchise, following the 2015 film
The Renegade
as well as a crossover movie with
Blind Justice
.
The film has Rick120 and AlmightyNoob working on the screenplay while Endpoint acts as Executive Producer and creative advisor on the film.
Part 1 is due for release on February 1, 2017 with Part 2 for sometime in the late summer.
Plot
Blind Justice heads to Ann Arbor city to investigate a string of brutal attacks, all baring possible links to the God-like being, Hyperblue and his past associates.
Production
During production of The Renegade, Rick120 expressed interest in directing a film within the THCU, TheFallen123 permitted him to do so. Through-out the course of production, the concept changed. Rick later created the Time Hero; Rattle and had originally been slated to director a movie based around her- however later shifted interest to a Renegade follow-up.
After production had ended and during a skype conversation with ThecapcomFreak and AlmightyNoob, Rick proposed the idea of a "mini-Time Heroes movie". On September 13, AlmightyNoob agreed to assist in screenwriting, the following day: Rick announced on Twitter that he had began working on a screenplay, for the film- revealing the title under #Injustice- he released the teaser poster later that day.
After production on the Dream Clouds Reboot wrapped up, Rick's time was freed enough for him to finally being pre-production on the film, he is currently in the latest draft of the script. Filming officially began in June 2016 and is expected to run through the summer. On July 8, a teaser for the film was released.
In December 2016, Rick announced that the movie had been delayed to May 2017, mainly due to lack of creative motivation to work on the film. On January 31, 2017 Rick announced that the film would be split into 2 parts. Part 1 due for release in early February with Part 1 for sometime in the summer.
Cast
List is incomplete...
| Actor | Role |
| --- | --- |
| Juzzy4 | Jason Stone/Blind Justice |
| JennaWishes | Clarity Rose/Mystic |
| Coollegodude1 | Jeremy Lewis/Hyperblue |
| Wholesaleryan56 | Phantom |
| Tec307 | Emilio Bardem |
| BudgieQween | Rattle |
Reception
N/A
Trivia
Injustice will be the first film in the THCU to not be written or directed by Endpoint.
The director happened to work on the screenplay for The Renegade while assistant screenwriter AlmightyNoob worked on Blind Justice.
The film will serve as the introduction of Rattle into the THCU.
Several members of the cast from The Renegade will reprise their roles in the film.
PickachuGirl is credited in the film, however she uses the account BudgieQween during filming.
The after credits of Hostage will hint at the events of the film.
Media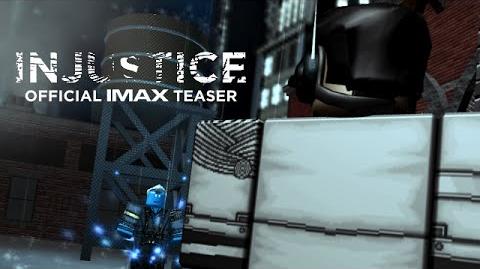 Ad blocker interference detected!
Wikia is a free-to-use site that makes money from advertising. We have a modified experience for viewers using ad blockers

Wikia is not accessible if you've made further modifications. Remove the custom ad blocker rule(s) and the page will load as expected.