Army of Brothers
Army of Brothers DVD cover

Information

Release Date
27 Jan 2010 (P1 & 2)
Director
Revenger123
Film Company
RE Studios, ZZR, RobuxSoft
Running Time
7:44
Main Actors
AlienKiller1638, Blackout2000
Genre
Action, Adventure
Movie Rating Rank
Army of Brothers
is a two-part film directed by
Revenger123
. It was the first film made by
RE Studios
.
Plot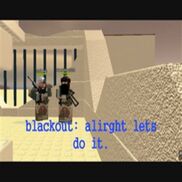 Two brothers are thrust into a war with an unknown enemy after they are stuck in the middle of the desert.
Cast
AlienKiller1638 as Himself
Blackout2000 as Himself
Darkai21 as Truck Driver
Outlawj as Blackout2000
Revenger123 as Enemy
Sequel
Army of Brothers 2: There Will be Blood is the sequel to Army of Brothers.