Release Date
January 1, 2012
Cast
Moltak118
Thunder162
Futuregatorkid01
Alien in 51 is a 2012 sci-fi action film directed by TomPengu and Koprio. The film was written by Tompengu, and distributed by Arrestare Films. Alien in 51 is the first movie in the 51 Franchise.
Plot
Ryder Moore, a scientist, and a guard named Charles Koy discover that their boss General Joseph is an alien who plans on destroying the world, using Area 51 as a tool. But, the two realize that Joseph is being chased by his home world of Pepar, led by Commander.
Production
The idea for Alien in 51 was originally thought up by Tompengu while playing patrline's "Area 51". After two years of attempting to get the film made, Tom's friend Koprio came to him with the interest of making movies, which led to Tompengu's pitch for Alien.
In June 2011, the group started to film, but had to reshoot several scenes due to several cast members being replaced. Production continued up to September when the studio almost broke up, but production continued in November. Filming concluded in December, and the film was released January 1st, 2012.
Reception
Reception to the film was generally positive.
Cast
| Actor | Role |
| --- | --- |
| Moltak118 | Ryder Moore, Alien Soldier |
| Thunder162 | General Joseph Abuel, CAM, Alien Soldier |
| Tompengu | Charles Koy |
| Futuregatorkod01 | Commander, Alien Soldier |
| OliveAbuse | Soldier, Alien Soldier |
Continuation
Main article: 51 Franchise
A prequel, Before 51, was in production at Legacy Studios, with Tompengu returning to direct/write, and cast members Thunder162, Moltak118, and futuregatorkid01 reprising their roles. It was expected to have a release date in Summer of 2013. However, with Tompengu's retiring, the film was handed off to ExplodingNovaProductions with ThecapcomFreak directing. In the end, that project was shut down also due to Capcom shutting down ExplodingNova.
On September 13th, however, Tompengu announced that Alien in 51 would receive a remake/reboot, with a new script focusing on different plot points while remaining true to the original story. The film would star ThecapcomFreak as Ryder Moore and Tompengu now playing General Joseph. Eventually, this reboot was cancelled.
Awards and Nominations
The 2012 ROBLOX Film Awards

| Award | Awarded to... | Results |
| --- | --- | --- |
| Best ROBLOX Film | Tompengu and Koprio | N/A |
| Best Actor in a Leading Role | Moltak118 | Won |
| Best Actor in a Supporting Role | Thunder162 | Nominated |
| Best Screenplay | Tompengu | Won |
| Best Director | Tompengu and Koprio | Nominated |
The 2013 ROBLOX Film Awards

| Award | Awarded to... | Results |
| --- | --- | --- |
| Best Storyline | Tompengu (tied with ThecapcomFreak and Rick120) | N/A |
| Best Screenplay | Tompengu | N/A |
| Best Film Editing | Koprio (tied with ThecapcomFreak and DonCurrency) | N/A |
Trivia
During the scene where General Joseph walks to the elevator, hidden in one of the jet hangers is Woody from Toy Story
On several computers, in both Area 51 and Commander's Ship, there are screenshots of the popular game Portal.
Media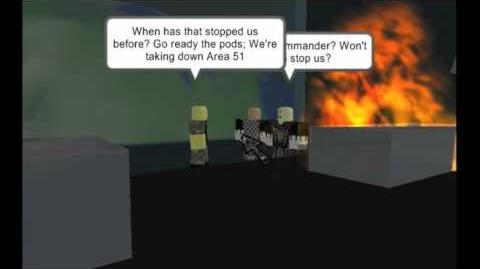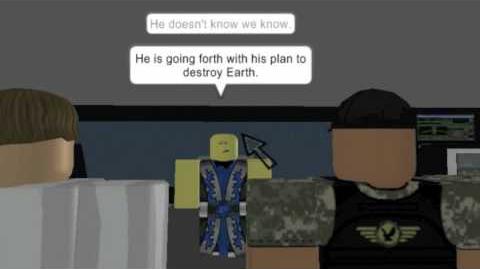 Ad blocker interference detected!
Wikia is a free-to-use site that makes money from advertising. We have a modified experience for viewers using ad blockers

Wikia is not accessible if you've made further modifications. Remove the custom ad blocker rule(s) and the page will load as expected.