The 2013 ROBLOX International Film Festival
Poster for the 2013 BLOXY's.




Date Held
April-July 2013
Host
ROBLOX
No. of Award Winners
5 (approx.)
The 
2013 BLOXY Awards
(also referred to as the
ROBLOX (International) Film Festival
, or simply, the
Bloxys
) are a film contest held by the ROBLOX Corporation, as part of the activities being held at the 2013 BLOXcons in London, New York, and Chicago and the Virtual BLOXcon.
Categories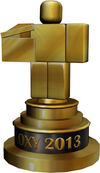 The sections of the awards are:
Chicago/London/New York City: Represent Chicago, IL, London, UK, or New York, NY. (2 minutes max)
Short Film/Machinima: Original short story – drama, action, comedy, etc. – built with ROBLOX machinima. (3 minutes max)
Trailer: Create a trailer for a game, movie or television series – real or totally fictitious. (90 seconds max)
Commercial: Create the ultimate commercial, highlighting Builders Club or the limitless possibilities of ROBLOX. (30 seconds max)
Building/physics showcases: Footage of yourself building something awesome – a place or physics contraption (e.g., Rube Goldberg machine) – and speed the footage way up to show the whole process. (1 minute max)
Winners
The winners can be found here.
Ad blocker interference detected!
Wikia is a free-to-use site that makes money from advertising. We have a modified experience for viewers using ad blockers

Wikia is not accessible if you've made further modifications. Remove the custom ad blocker rule(s) and the page will load as expected.